Lyme Regis oil tank suppliers and installation
Working throughout Dorset we are oil tank suppliers in Lyme Regis
South West Oil Tanks are the leading oil tank suppliers and installers of oil storage tanks covering Devon, Somerset, Dorset and the whole of the South West. With over 10 years experience in both supplying, maintaining and installing oil storage tanks, you can trust our friendly, skilled team to provide a service that fits your requirements.
South West Oil Tanks specialise in supplying and installing plastic oil storage tanks for domestic use with a variety of sizes ranging from 1,000 litres upwards. We can offer either single skin or bunded plastic oil tanks which come with an 10 year warranty for ultimate peace of mind. Whether you already have an existing oil tank setup in your home that you're looking to replace and upgrade, or you're looking to install a brand new setup from scratch, we can offer a sound solution to meet your needs.
Talk to us about your requirements and our knowledgeable team will be happy to guide you on what size and type of oil tank is best for your system. We will also provide you with maintenance information such as where to find the filter, how to see the sight gauge and how to locate the shut-off valve in case of an emergency situation, as well as how to visually inspect your tank for any cracks or damage that may lead to a leak. These preventative measures will help to maximise the lifespan and ensure the smooth running of your home oil system.
We are aware that heating oil theft can be a problem in some areas, so speak to us to find out how you can add security to your oil tank and prevent this from affecting you.
For a free no-obligation quotation for oil tank supply, installation or both, call us today on: 01404 371055
Reasons for choosing our oil tank services:
OFTEC certified - C10833
All work is fully guaranteed
Storage tanks with a variety of sizes
Expert team of installers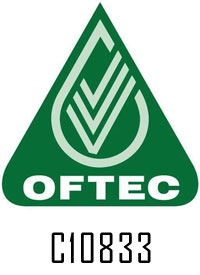 Expert oil tank installation in Lyme Regis
Working throughout Dorset we provide oil tank installation in Lyme Regis
South West Oil Tanks are a longstanding, professional business who not only supply and fit oil tanks but offer the installation of both single skin and bunded oil tanks. Our fully insured, expert team of installers have over 10 years of oil tank installation experience between them and carry out their work adhering to all safety standards and guidelines. Most importantly, our team take great pride in their work – a high quality job and a friendly smile comes as standard.
Our installation services cover every aspect of the job required to get your domestic oil tank system up and running and in good standing for the future. This services includes building concrete or block work pillars where needed.
How does the Oil Tank Installation process work?
Once we've undergone an initial consultation and we're both happy with the services required, our experienced, friendly team of expert installers will assess your home to see the area in which the tank will need to be installed. If you are replacing an existing tank then this will need to be removed by ourselves and we will ensure that the base is in good condition, and large enough, to be able to install the new tank correctly and safely.
Once this has been done, we will then set to work on installing the tank, adhering to OFTEC guidelines where necessary, before testing the tank to ensure everything is running as it should before we sign the job off as complete leaving both us and you happy and warm.
Contact us at South West Oil Tanks to find out more about the types of oil tank that we can supply and install. For a free no-obligation quotation for oil tank supply, installation or both, call us today on: 01404 47086
We also cover the following areas in Dorset:
Bridport, Lyme Regis